Lil Miss Jones RATI
Weight: 6.5 lbs
Personality: Playful, feisty, anxious
Likes: Hoses, toys, cuddling, giving kisses, murdering small animals
Dislikes: Loud vehicles, strange people, being alone, rain, cold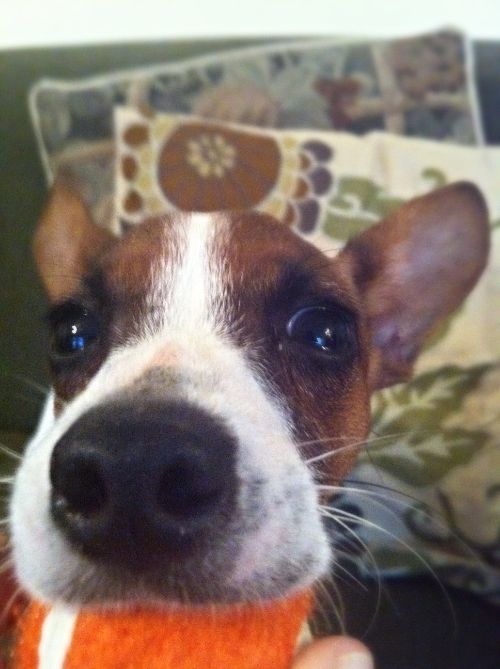 Delilah is the first dog of my own. She was the dog I never wanted, I didn't want a tiny dog or a terrier. I was looking for medium dogs- spaniels, Aussies, whippets- when I came across her picture on petfinder. She had the biggest ears and I showed my boyfriend (who actually wanted a terrier) and he said we had to have her. I never wanted to adopt a dog without meeting it first, or from a rescue I wasn't familiar with, but it happened and she's been awesome.
We know a little about her history. She's a southern belle from Tennessee. At one point she was a stray and ended up in a high kill shelter. Before she was due to be euthanized Love Handlers pulled her and that's how we found her- we saw their petfinder ad. We took the risk and adopted her, and she was transported to Vermont and came home on July 18, 2015.
Delilah is a very playful, feisty girl. She loves hiking and hunting small animals (she has yet to catch one, thank goodness). I was training her in agility but we have stopped due to luxating patellas in both legs and some behavioral issues. She has a lot of anxiety towards strangers, new environments, and high pressure situations. In training classes and trials, this stress and anxiety manifests in compulsive behaviors- chasing light, reflections, and dust. This blog was initially going to be about her adventures and participation in dog sports, but currently it's revolving around her behavior modification.